Move one step closer to BECOMING an eco-friendly brand
Join brands such as MANGO, Zara, Stella McCartney and many more when it comes to sustainable fashion. The fashion industry has had a disastrous impact on the environment, and for many brands the time to change is now!
To help you start your journey to becoming an eco-friendly brand we've created a guide all about:
How to Make the Transition to an Eco-Friendly Manufacturing and Production Process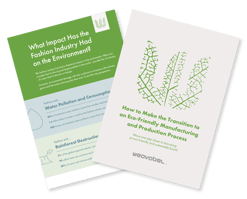 In the eBook you will learn:
What impact the fashion industry has had on the environment

How consumer trends in sustainability have evolved

What the world-leading fashion brands are doing right now

How production processes can be more eco-friendly

How to make the transition to becoming a more sustainable brand
Fill in the form to receive a FREE copy of the eBook and kick start your journey to becoming a sustainable brand.
TO RECEIVE A FREE COPY, FILL IN THE FORM